About us
The a2 Milk Company is a dairy nutritionals company, fuelled by its purpose to pioneer the future of dairy for good. The Company was founded in 2000 in New Zealand by scientist Dr Corran (Corrie) McLachlan and his business partner, Howard Paterson, who recognised that not all milk is the same.
The A2 protein difference
Originally all cows' milk contained only the A2 protein type. The A1 protein arose through a genetic mutation over many years.
Today, most regular milk contains a mixture of A1 and A2 proteins. Results of several published peer-reviewed human clinical trials have shown that A1 protein can cause digestion issues for some people who have difficulty drinking milk. A scientific and proprietary way to identify cows that naturally produce milk which contains only the A2 protein and no A1, was also discovered.
Today, the a2 Milk Company continues to pioneer this science and research, bringing milk that naturally contains only the A2 protein and no A1, to the world.
Our purpose and vision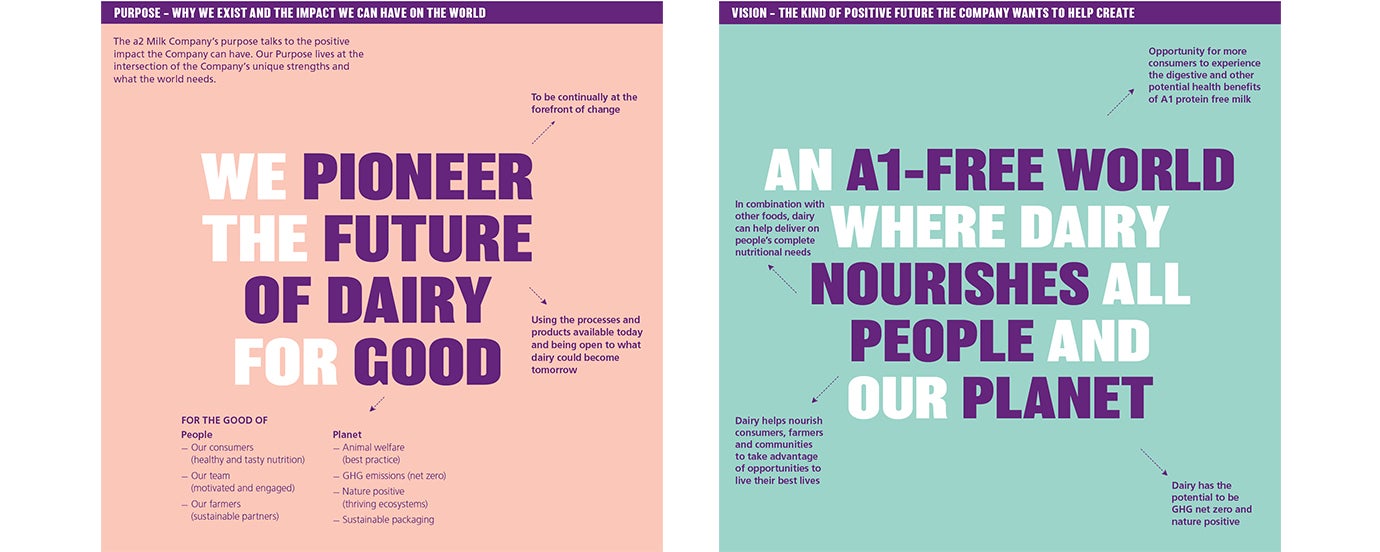 Australia and New Zealand
Australia is our most well-established market where we have had a continued strong focus since 2007.

a2 Milk® is the brand leader of the fresh liquid milk category in Australia, and naturally contains only the A2 protein, and no A1, thereby allowing more consumers to enjoy its unique digestive and other potential health benefits.
a2 Platinum® infant nutrition is a leading brand in grocery and pharmacy channels.
The a2 Milk Company has licensed the a2 Milk® brand to Fonterra in New Zealand, and a2 Milk® fresh milk became available in stores from July 2019.
Visit our websites
China
Chinese consumers are able to purchase either the Australia and New Zealand a2 Platinum® products via cross border e-commerce platforms, or our unique Chinese a2™至初® infant formula products across ~26,000 Mother and Baby stores in China or on domestic e-commerce sites.
All our infant formula products are produced by our strategic supply partner Synlait Milk in New Zealand.
a2 Milk® branded fresh milk and milk powder are also airfreighted directly from Australia and New Zealand.
Visit our website
North America
In 2015, the a2 Milk® brand was launched in the United States of America. Since its launch, a2 Milk® has experienced significant growth, leveraging the Company's unique and premium branded proposition.
In March 2020 we entered into an exclusive licensing agreement with Agrifoods International Cooperative Ltd for the production, distribution, sales and marketing of a2 Milk™ branded liquid milk for the Canadian market.
Visit our websites
Mataura Valley Milk
Mataura Valley Milk is a purpose built nutritionals facility with unique design features – one of the most technically advanced nutritional manufacturing sites globally and sources milk from one of the finest grass-producing regions in the world – Southland, New Zealand – to produce exceptional nutrition for a growing world.
In July 2021, The a2 Milk Company acquired 75% interest in Mataura Valley Milk. The acquisition provides The a2 Milk Company with a unique opportunity to innovate and create new product pathways, as well as providing a dual supply opportunity that complements our existing partners.

Visit our website